Election maps for broadcasting
Mapcreator maps are suitable for TV broadcast, web use or even print. In this way, you can distribute your maps freely on many different platforms.
Learn more about our broadcasting features here, or find out more about the Canadian election on our blog post.
Gain time with our easy-to-use tool
Provide a visual representation of election data and information with Mapcreator's customizable locator maps. Add numerous symbols and icons that perfectly match your brand image, and contextualize by adding interactivity.
Customize your maps as much as you want and reflect your image with your custom colors, fonts and CSS.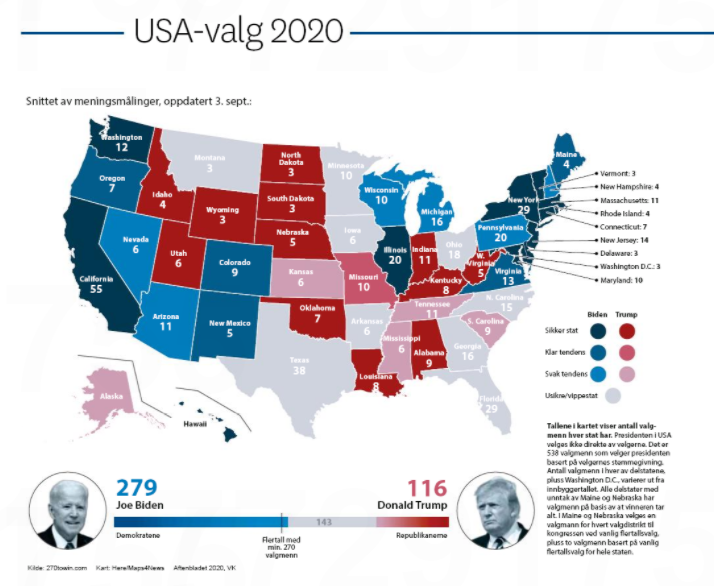 Reliable data for your election maps
We can use different data sources per election. Feel free to bring your own source or use an existing data source from our partners like Reuters or Edison Research. See the results come to live on a live updated map.
Our experts are here to help you, so don't hesitate to request a free demo and take advantage of our free trial.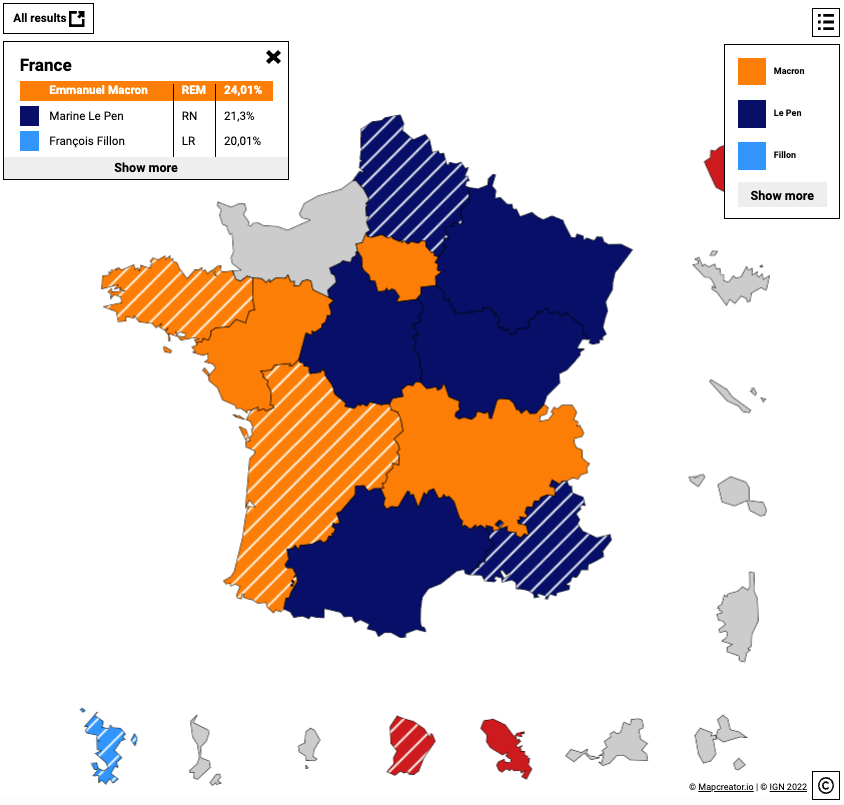 Show election results per division
With Mapcreator, you can select the administrative division of your choice.
You can then have the results of the election nationally, regionally or state by state.
See who is the local favorite of the race by visualizing the different party colors.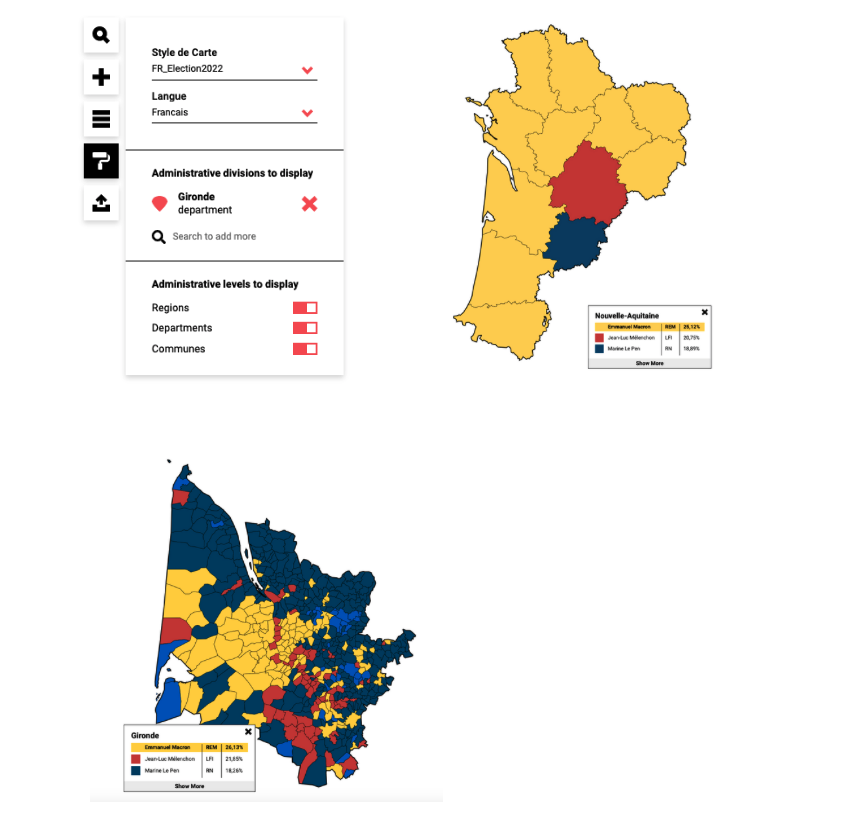 Advanced election visualizations
Use advanced visualization techniques like tilegrams and rely on composite projections to include overseas territories.
Then use interactive popups to show the results of candidates in the different locations.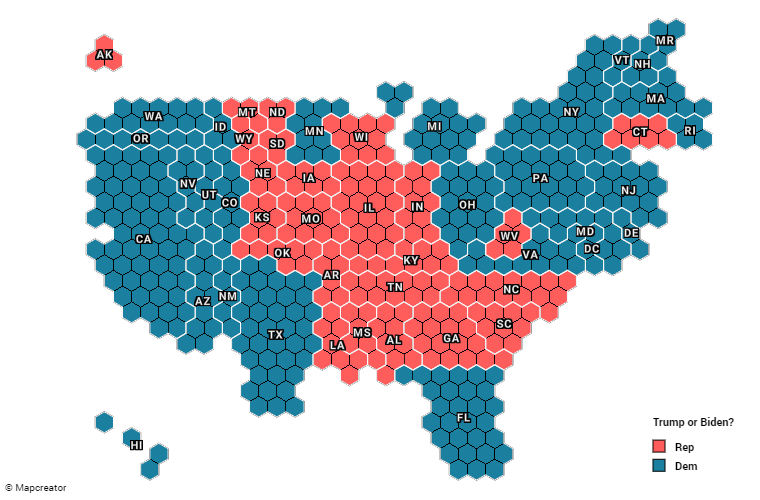 See it in action
Discover these use cases of our electoral maps in different newspaper articles such as the one made by Berlingske or have a look at this article published by De Telegraaf.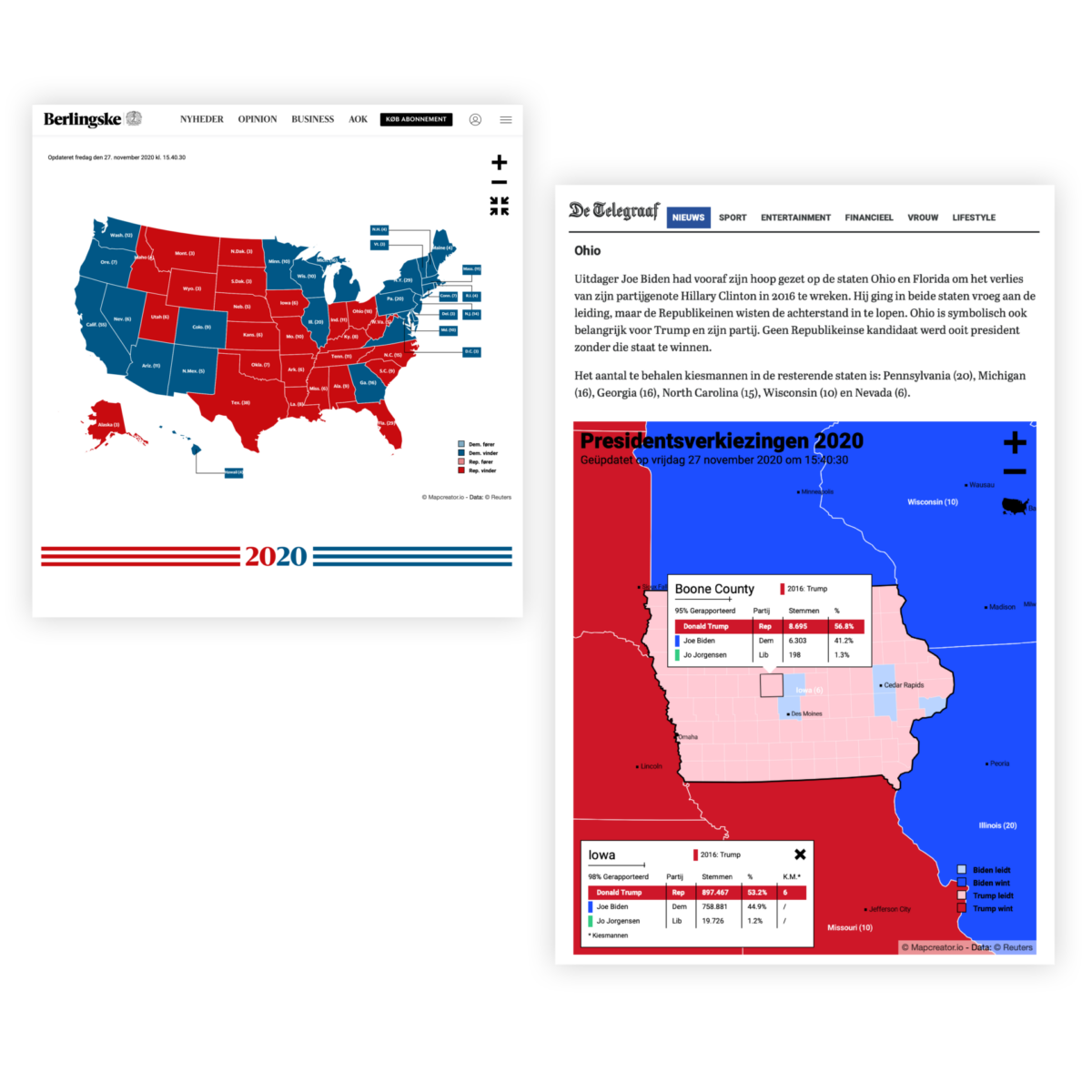 Other maps made with Mapcreator:
Frequently asked questions
Can I try Mapcreator for free?
Seeing is believing. We offer you 14 days of free access to our online mapping tool so that you can get to know the basic mapping functionalities you can expect. Register here to get started! Want to try out Mapcreator to its full extent? Contact us and take advantage of a free 'guided demo' where we'll show you the full potential and features of Mapcreator  mapping software.
Do I need technical/graphical knowledge to create maps?
Mapcreator has a user-friendly interface that does not require in-depth technical and graphical skills. To make sure that you get the most out of the mapping tool, we offer full training with all our subscriptions.
Can I make maps both for print and online publishing?
The mapping tool offers the possibility to export different file formats that can be used for both print and digital publications, including interactive elements. You can create a map and export/download it as various output types. The download options we support at the moment are: .PNG, .SVG, .PDF (CMYK), EPS and WEB. WEB means you'll get a link to the (interactive) map as well as an iframe.
How do I customize my maps with Mapcreator?
Mapcreator comes with a wide range of carefully designed default map styles, fonts, and features. In addition to the standard style elements that come with Mapcreator, map colors, features, and fonts can easily be customized for you. Do you want us to custom build your own complete map design? Please contact us, and we'll discuss your specific needs.