Attention all! Get ready to cover Le Tour de France 2023 like a pro with our ready-to-use and customizable maps of the stages.
Are you looking for the latest and most accurate information on the 2023 edition of Le Tour de France? Journalists, broadcasters, bloggers, cycling enthusiasts and anyone else with all the latest route news, this is for you! Our comprehensive mapping software that aims at helping you cover the world's most famous cycling race. 
Creating a map from scratch can be a time-consuming process. With our ready-to-use maps, you'll be the first to provide your readers with precise and accurate data about the race. Our ready-to-use maps feature the complete route of each stage, along with information about the start and finish points, the total distance, and the elevation profile. Reporting on this grand cycle tour has never been easier!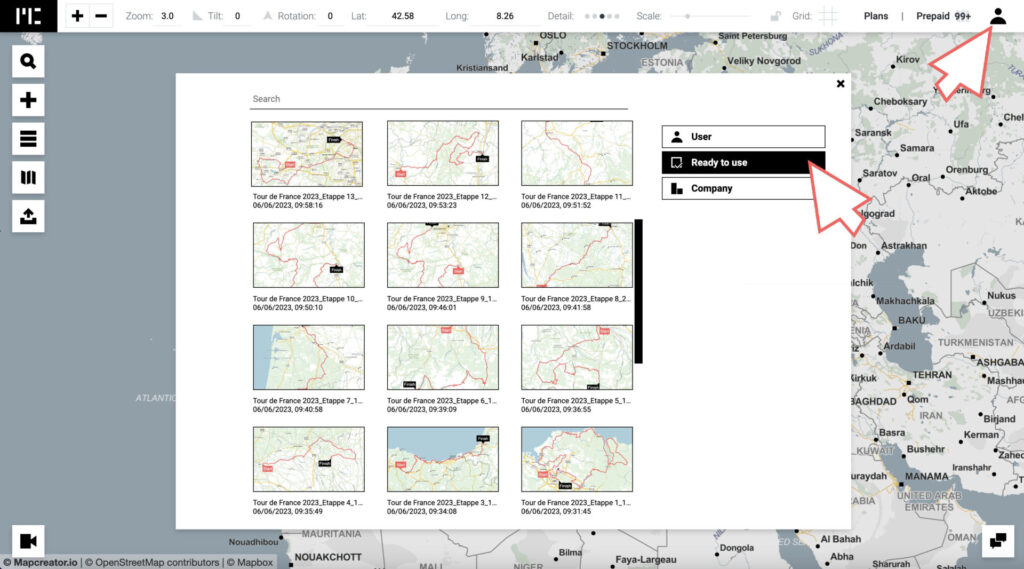 Ready, set, report!
Our maps are not only accurate and up-to-date, but they're also incredibly easy to use. You'll be able to provide your readers with all the information they need to follow the race, and you'll be able to do it in a way that suits your own unique style. Choose the colors, styles, and markers that best suit your publication and you'll be able to easily integrate your Le Tour de France 2023 maps into your own website, blog, or publication.
Key benefits of Mapcreator's Tour de France 2023 ready to use maps
Time-saving: Save time and effort as the map is already designed and ready-to-use.
Accurate: Our maps are designed to be accurate, providing you with reliable and up-to-date information.
Consistency: Ensure consistency in your designs and layouts and maintain your branding throughout your mapping.
Publish anywhere: Our maps can be integrated into a range of applications, from websites and social media to mobile apps.
Cost-effective: Creating custom maps from scratch can be costly. Ready-made maps offer an affordable alternative, if you need to create multiple maps.
Flexibility: Our maps can be customized to fit your specific needs, providing you with the flexibility to create a map that meets your unique requirements.
And that's not all! All the elements added on our maps can be interactive. Provide your readers with an immersive and engaging experience. Allow them to zoom in and out for a more detailed view, to explore the race route, and get closer to the action. Interactive maps are not only visually appealing but also provide an opportunity to engage with your readers and increase their time spent on your website.
By using Mapcreator's ready-to-use maps, you'll be able to differentiate your coverage from others, making you stand out as a leader in your field. You'll have access in your user dashboard to the latest information, which means you can deliver your content faster and more accurately than anyone else.
With our coverage, you'll be able to stay ahead of the competition and provide your readers with the most comprehensive and reliable data of the Tour de France 2023. So why wait? Join the hundreds of newsrooms around the world who trust Mapcreator for their coverage and become the go-to source for all things Tour de France.