Welcome to the bi-yearly update of Mapcreator – your mapping software company! We're excited to share with you the latest developments in our technology and the progress we've made over the past six months. As we continue to innovate and refine our software, we're proud to provide our users with the most comprehensive and accurate mapping tools on the market. So grab your compass and get ready to explore all the exciting new features we have in store for you!
Updates in the tool
Prepaid plans
Hold onto your seats, because it's probably no secret to you that Mapcreator has launched our prepaid plans, giving you more flexibility and control over your mapping needs. No more worrying about being tied down to long-term commitments. With our prepaid plans, you can explore, navigate, and conquer the world at your own pace. Whether you're an occasional user or a mapping enthusiast, our new plans will ensure that you have access to the most advanced mapping features whenever and wherever you need them. So get ready to chart your own course with our prepaid plans and unlock a whole new world of possibilities!
Map Animation
Lights, camera, map-animation-action! Over the past few months, you've had the chance to discover our latest game-changing feature: map animation. Gone are the days of complicated post-production and time-consuming editing. With our revolutionary map animation option, you can effortlessly bring your maps to life with a dazzling array of animated features. From dynamic zooms and smooth panning to stunning overlays and captivating transitions, creating jaw-dropping animated maps has never been easier. Whether you're a seasoned cartographer or a casual explorer, our intuitive interface puts the power of Hollywood-level map animation right at your fingertips. So grab your popcorn and get ready to be amazed as we usher in a new era of mapping creativity and storytelling.
Globe view
To go further in map animation, the awe-inspiring Globe View function will have your minds blown. Embark on a breathtaking journey around the world like never before. With a single click, you can now switch to a stunning 3D globe view, allowing you to witness your animated maps come alive in a whole new dimension. Soar above towering mountains, traverse vast oceans, and explore bustling cities, all with the smoothness and precision of our cutting-edge technology. Whether you're presenting to a global audience or simply indulging your wanderlust, our new Globe View feature will transport you to the very heart of the action. Get ready to take your animated maps to new heights and redefine what it means to explore our beautiful planet. Bon voyage!
Knowledge base
Drumroll, please! Our revamped Knowledge Base is live. We've taken user feedback to heart and transformed our knowledge repository into a powerhouse of information, now equipped with an intuitive search bar and a game-changing voting system. Finding the answers you need has never been easier. Simply type your query into the search bar, and like magic, a treasure trove of articles will appear, tailored to your specific needs. But that's not all! We've also introduced a voting feature, allowing you to voice your opinion on the usefulness of each article. Your feedback drives us to continuously improve and provide you with the most relevant and valuable information possible. So, get ready to unlock a world of knowledge at your fingertips, and let your voice be heard in shaping the future of our ever-evolving knowledge base. Knowledge is power, and now, with our redesigned platform, it's also incredibly user-friendly.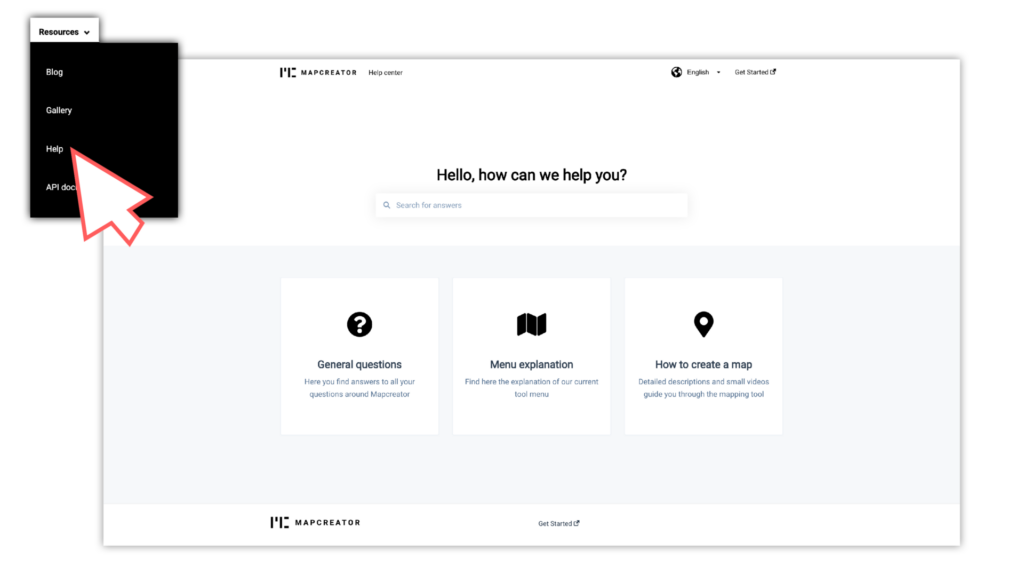 Conferences
At Mapcreator, we're dedicated to staying at the forefront of our industry. That's why we've been hitting the road and attending some of the most prestigious conferences in the world to showcase our latest features. From Las Vegas to Berlin, our team has been sharing our cutting-edge technology with mapping enthusiasts and experts alike. We're thrilled to report that our presentations have been met with overwhelming enthusiasm and support, and we can't wait to see what the future holds for our software. Whether you're a seasoned cartographer or just getting started, our latest updates are sure to help you navigate the world like never before.
Online News Association
The year 2022 ended very successfully as our mapping tool company attended the annual Online News Association conference in Los Angeles. With experts from all over the world, this event was the perfect opportunity to showcase our latest features and network with other industry leaders. We were thrilled to receive such positive feedback on our technology.
Internationale Tourismus-Börse
The year 2023 kicked off with a bang as we headed to Berlin for the Internationale Tourismus-Börse (ITB Berlin). With over 90,000 attendees from 150 countries, this conference is one of the largest gatherings of travel professionals in the world. Our team had a fantastic time presenting our latest updates and learning from other experts in the field. We were especially excited to share our new animation mapping capabilities, which were a huge hit with attendees. We're looking forward to seeing how these features will help our users visualize their data in new and exciting ways.
National Association of Broadcasters
Then, we traveled to Las Vegas for the National Association of Broadcasters (NAB) 2023 conference. This event brought together some of the most innovative companies in the media, entertainment and technology industry, and we were honored to be amongst them. We had a fantastic time showcasing our latest technology and exploring new opportunities for growth not only in the American region, but worldwide. With so many exciting developments on the horizon, we can't wait to see what the rest of the year has in store for us. Did you miss our presentation? Don't worry, we've recorded it for you!
The Media Production & Technology Show
Last but certainly not least, Mapcreator made a grand entrance at the renowned MPTS conference, and let's just say, we left our mark on the map! From rubbing shoulders with industry giants to showcasing our powerful technology, this event was a game-changer for us. The atmosphere was electric as we engaged in thought-provoking discussions, shared insights with fellow map enthusiasts, and unveiled our latest innovations that had jaws dropping left and right. We took center stage, leaving a lasting impression with our dynamic demos. Get ready to map your world in ways you've never imagined. We're just getting started, and the future looks brighter than ever!
Updates in the company
Blogs every 2 weeks
Calling all map enthusiasts! Brace yourselves for an epic avalanche of knowledge as our mapping software company gears up to deliver an abundance of captivating blog content. Since the dawn of January, our dedicated team has been creating a valuable collection of knowledge centered around maps. Get ready to dive deep into the fascinating world of map functionality, where we'll unlock the secrets of harnessing the full potential of our software in a multitude of use cases. From discovering innovative ways to utilize maps in business strategies to uncovering the hidden gems of mapping techniques, our blog will be your compass to success. Whether you're a seasoned cartographer or a novice explorer, our tips and guides will empower you to create maps that transcend expectations and leave a lasting impression.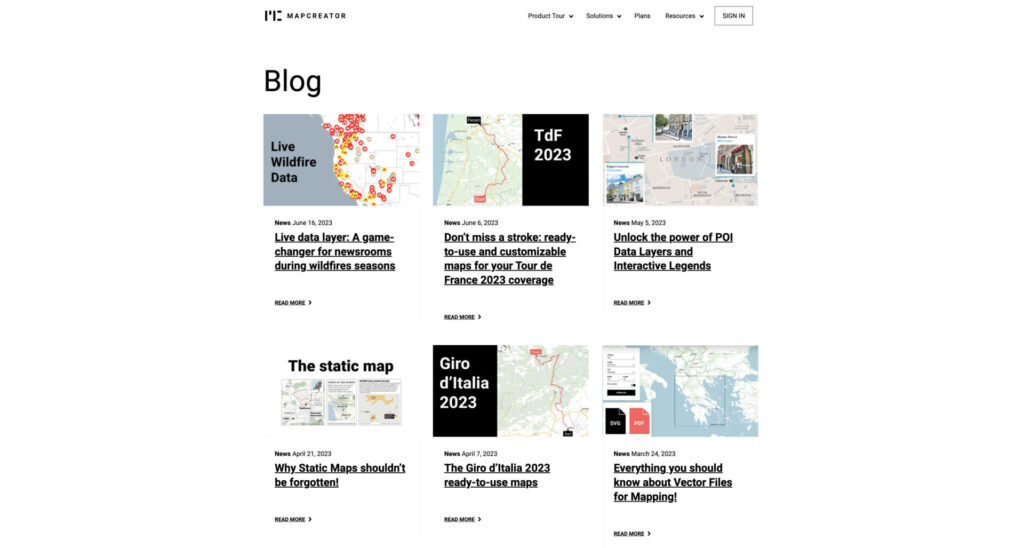 You can already learn exactly how to make animated maps with the help of this comprehensive guide, get advice on the best map styles to use depending on your needs, learn why to use static maps or find out all about geographic data formats. So stay tuned, because the map revolution is about to start, and you won't want to miss a single pixel.
Hold on to your hiking boots and prepare to be whisked away to the stunning landscapes of the Tyrolean Alps!
Picture this: The Mapcreator team embarked on an unforgettable adventure in the mesmerizing Tyrolean Alps, nestled in the heart of Austria. We traded our office desks for majestic peaks, as we embarked on a well-deserved company retreat. It was a chance for us to rejuvenate, reconnect, and embrace the true spirit of internationality and teamwork that defines our company.
The Austrian retreat was a melting pot of emotions, as we laughed, cried, and grew closer as a team. The trip brought together colleagues who had previously only met through screens, bridging the gap between virtual interactions and genuine human connections. From hilarious airport pick-ups to heartfelt goodbyes, our collective experiences, both challenging and rewarding, pushed us to overcome obstacles and support one another. Hiking up steep mountains tested our physical limits, while breathtaking vistas served as a constant reminder of the beauty that lies beyond our screens.
As we ventured together, our horizons expanded and our bonds grew stronger. The shared moments during the retreat fostered a deeper understanding and appreciation for one another on a personal level. We learned that collaboration isn't just about work-related tasks but extends to supporting and celebrating each other's individual journeys. The Austrian retreat reminded us of the power of teamwork, the importance of taking breaks to recharge, and the incredible strength that comes from exploring the world together. As we bid farewell to the Tyrolean Alps, we eagerly await our next adventure, knowing that our collective experiences will continue to shape us into an even stronger team.
As we wrap up this exhilarating bi-yearly update, we want to extend our heartfelt gratitude to our amazing community of users and supporters. Together, we've navigated uncharted territories, explored breathtaking landscapes, and unlocked the true power of maps. We've launched game-changing features, attended prestigious conferences, and embarked on unforgettable journeys. Stay tuned, because the mapping revolution is far from over. Let's map the world together!