As wildfire seasons continue to bring both devastation and uncertainty, you must remain proactive in providing the most accurate and up-to-date information. Thanks to the latest wildfires' information from the National Interagency Fire Center (NIFC) in the USA and from the Natural Resources Canada (NRCAN) in Canada, you can play a pivotal role in providing timely and accurate updates during critical events.
Every 60 minutes, this layer is updated with the latest forecasts, both in the tool and in any interactive output you create. It allows you to have an automatic widget showing the latest information and harness the power of real-time information to deliver comprehensive coverage and keep the public informed.
In this article, we will explore how Wildfires live data layer can benefit your newsroom team during wildfires seasons, revolutionizing your ability to report and respond to these natural disasters.
Overview
Access to real-time data
Our Wildfires live data layers provide you with real-time updates and accurate information about wildfire locations, sizes and history. By letting our powerful software automatically provide you with the latest data about wildfires, you can focus on accessing the most recent evacuation orders, and affected areas, enabling you to provide accurate, relevant and complete news stories.
During wildfire events, the safety of the public is of utmost importance. Live data layers can be leveraged to issue real-time alerts and warnings to individuals in affected areas. Newsrooms collaborate with us to deliver information through journals, TV and online platforms. This ensures that news outlets stay ahead of the curve, delivering critical information to communities in the path of wildfires promptly.
Accurate and reliable reporting
Live data layers enable you to provide accurate and reliable reporting during wildfire seasons. Journalists can access real-time fire data and incorporate it into their news articles, providing geographic context to their reports. By relying on live data, newsrooms can avoid misinformation and speculation, providing the public with trustworthy information during times of crisis.
Enhanced visualization and storytelling
Such a live data layer enables newsrooms to create compelling visualizations that enhance storytelling and provide a comprehensive view of wildfires. Journalists can overlay fire perimeters, and other relevant information onto maps, offering a clearer understanding of the scale and impact of wildfires.
Help your audience grasp the severity of the situation and provide valuable background information for news stories. By using icons, textboxes, polygons or routes, you can contextualize the impact of wildfires. Take it even one step further and turn your map into a source of valuable insights. Transform your map into an interactive experience for your audience by allowing them to zoom, tilt, scroll or read additional information in popups. This can be text, tables, images, videos or URLs fostering a deeper understanding of the situation.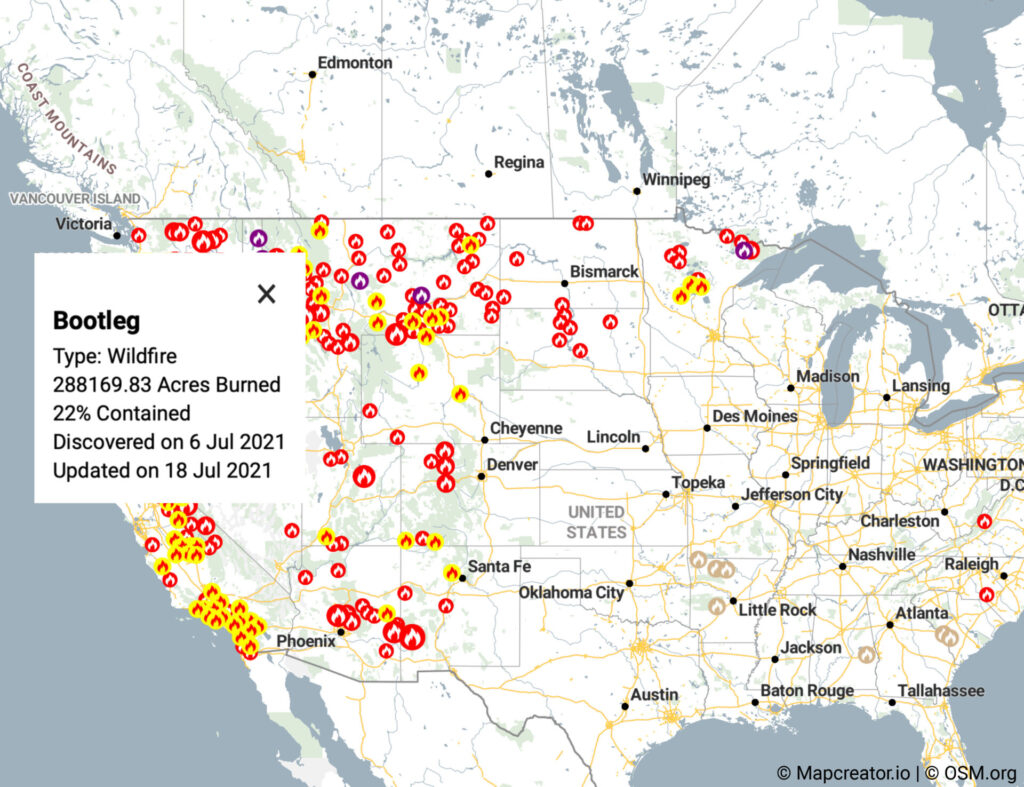 Audience engagement and reputation
By integrating Mapcreator's wildfires live data layer, you can contribute to public safety and awareness during wildfire events. Accurate reporting and real-time updates enable communities to stay informed about the latest developments. News organizations play a major role in distributing information, and Mapcreator does it all to help by making maps easily available and usable on all media. No matter which distribution channel you choose, your maps will be irreplaceable.
Build trust and engage your audience with live interactive maps. You become the go-to source for reliable information, ensuring that the public relies on you during times of crisis. This enhanced trust strengthens the bond between you and your audience, fostering long-term loyalty and credibility.
The integration of live data layers into coverages has revolutionized the way newsrooms report and respond to wildfires. By accessing real-time information, creating captivating visualizations, and delivering accurate reporting, news organizations can provide valuable services to their readers during wildfire seasons. This technology-driven approach enables newsrooms to engage with the public, build trust, and ensure that communities are well-informed and prepared for the challenges that wildfires bring.
As the world faces an increasing number of extreme weather events, embracing live data layers becomes imperative for you to fulfill your role as reliable sources of information. With Mapcreator, you can play a critical part in helping communities prepare, respond, and recover from the devastating effects of wildfires.
So don't waste time and start mapping now!
If you're interested in live data layers, dive into our exclusive content!
The most recent hurricane data
The hotspot information in Europe or Australia
The latest Canadian fire danger information