If you are impressed with advanced interactive maps but think that's not something you can do on your own… hold on! You CAN create interactive maps right now, with no coding skills, no previous experience, and no help from professionals.
Interactive maps are one of the most popular ways of representing data visually. And that's for a reason – they are highly informative and can be easily customized according to readers' needs and preferences.
Creating maps with interactive elements was once a big hassle; it took advanced coding and data visualization skills to create one. However, with the latest evolution of no-code map builders, you can create an interactive map of any location and with any style with no significant effort. All you need is software with robust functionality and a bit of tech-savviness, perhaps.
So, if you have wondered about "How to create an interactive map?", you're headed in the right direction. In this article, we will look at the easiest way to create interactive maps with no coding.
Interactive Maps, Why So Popular?
Simply put, an interactive map allows two-way interaction. It's not a static map a reader can only look at. Instead, an interactive map allows you to zoom in and out, select specific layers or elements, and generally gives more control over the displayed data.
Interactive maps are popular for a number of reasons.
They are more engaging than static maps. A reader can zoom in to see more detail or zoom out to see the bigger picture. They can also turn layers on and off to see how different data sets interact with each other.
Interactive maps are more informative than static maps. A static picture allows you to put only limited information on it, while an interactive map can provide detailed data on every element.
Last but not least, interactive maps are more accessible than static maps. An interactive map can be easily embedded on a website or blog, and readers can explore it without having to download any extra software.
To sum up, an interactive map helps convey your message more easily, and communicate more by speaking less (or not speaking at all!). So, let's answer your main question: "how to create an interactive map?"
What Does It Take For A Non-Programmer To Build An Interactive Map? The Miracle of No-Code
Building an interactive map used to be a complicated and time-consuming task that required advanced coding skills. Typically, this process would involve traditional map creating processes like cartography and GIS, followed by a lengthy coding process to make the map interactive.
Luckily, times have changed, and there are now a number of tools that allow anyone to create an interactive map, regardless of their coding skills. All you have to do to create an interactive map today is Mapcreator, an easy-to-use and intuitive tool for constructing complex structures.
How To Create An Interactive Map of The USA and Not Only? All Steps Covered
Step 1: Sign Up To Mapcreator
Mapcreator is a subscription-based tool, but it does allow you to explore its basic functionality for free. So, the first step is to sign up to Mapcreator on the registration page.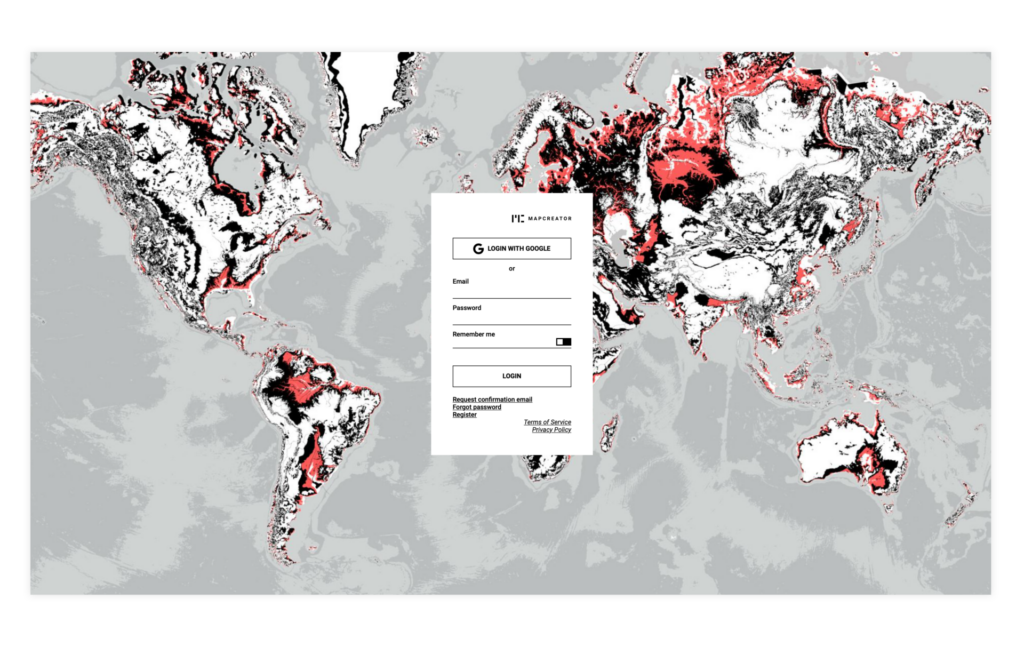 Once you have created your Mapcreator account, you will get an account verification request to your email address. Make sure to verify your account as soon as possible to make sure you can freely use all the Mapcreator tools.
Once your account is verified, you are headed to your map-creating dashboard, with all the Mapcreator features at your fingertips.
Note: Mapcreator has three subscription options (see the pricing page), and an interactive mapping tool is available on all these plans.
Step 2: Zoom In The Location You Need
The email verification stage will take you to the map dashboard, where a world map is available to you as a starting point. Now you can choose any location for your interactive map. This can be anything from a country to a particular street in your town. Use the search functionality to find any location you need.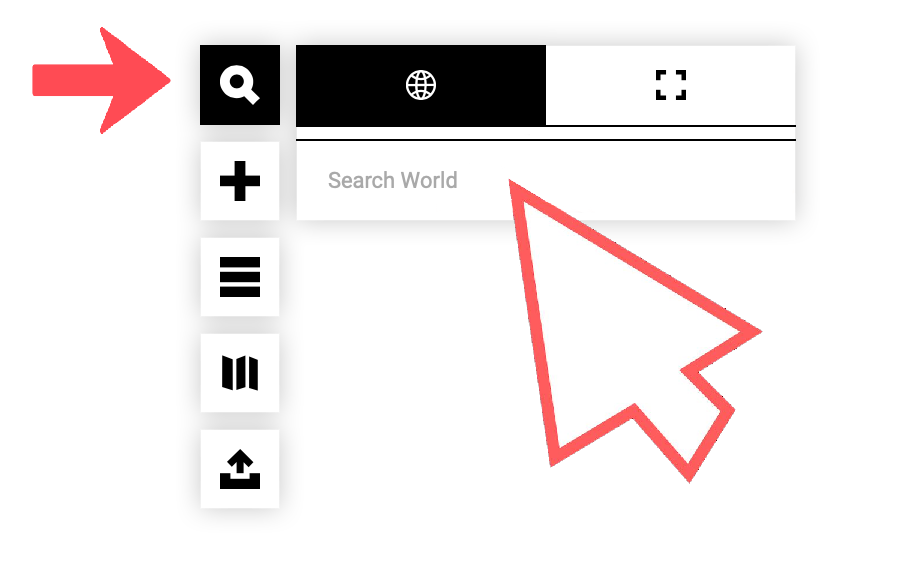 The input box on the left sidebar allows you to find any location by entering information like city, village, zip codes, or coordinates in the form of latitude/longitude.
Note: Separate your location's dimension by a semicolon (;) for better precision.
Here is how the United States is identified with a few quick steps.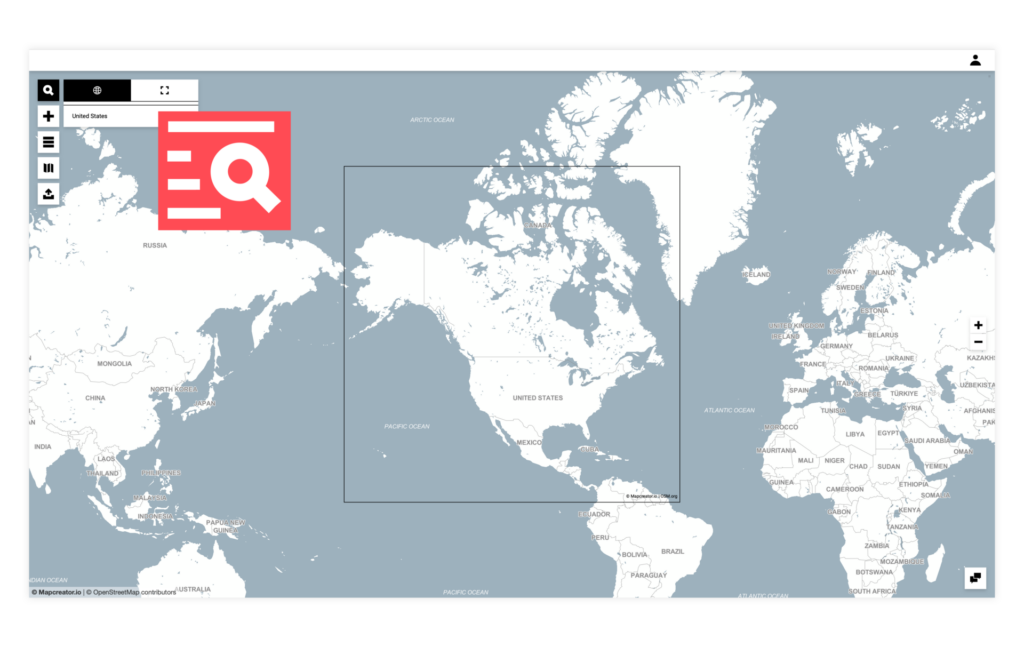 Let's dig deeper into the chosen country's sections. I used the Areas function from the search functionality to move closer to my chosen location, Washington.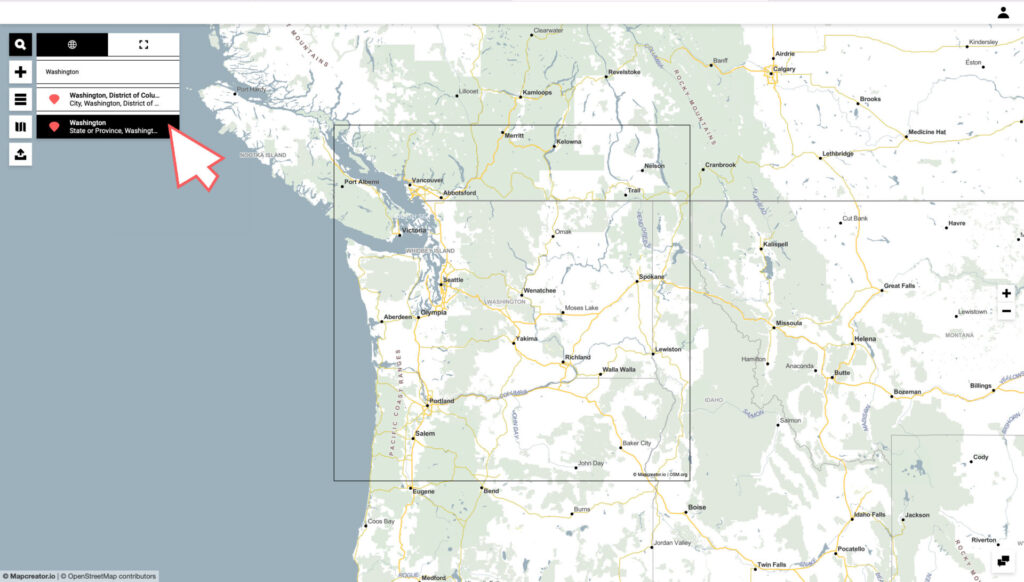 Step 3: Choose What You're Going To Display On The Map
The Elements list allows you to see and define all the items on your map. With a single click, you can hide or show elements like water, boundaries, transport routes, and many other components.
Here is my version. I decided to create a map of the transport infrastructure of Washington, so I've hidden all the elements not connected to transport.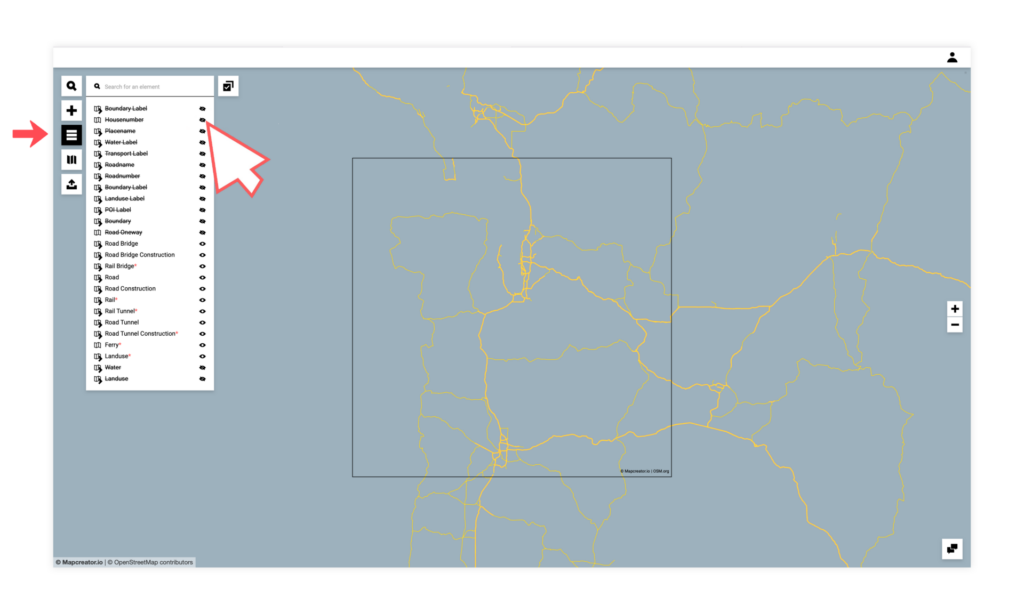 Step 4: Choose Any Mapstyle
Suitable for any visualization you want, there are pre-made map styles you can choose from the Mapstyle Settings on the left sidebar. You can give any mood to your map, from bright and light layouts to a more photorealistic approach with shades of green.
Additionally, you can choose the language of your map and decide the level of detail your users should see.
In my case, I've chosen Mapcreator Bright, as I love its realistic brown color, and I made the map detailed enough to show all the routes and transporting directions I want to see.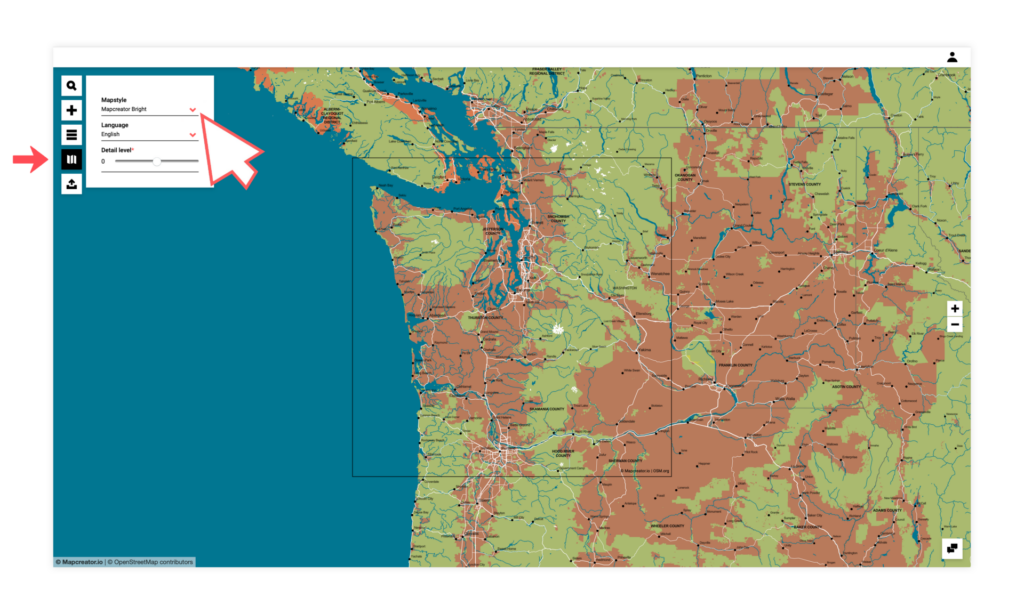 Step 5: Add Icons Or Annotations To Your Map
What do you want to highlight on your map? Is it a new branch opening, or maybe detailed directions to your new office from the city center?
Icons and textboxes will help you highlight any spot on your map. Once you've found the exact address of the location you want to highlight on your map, the tool will automatically generate the location's name. Choose from the autosuggestion list, or write a new text for your highlighted spot.
As an example, I have added an icon for a New Branch near the district in Yerevan.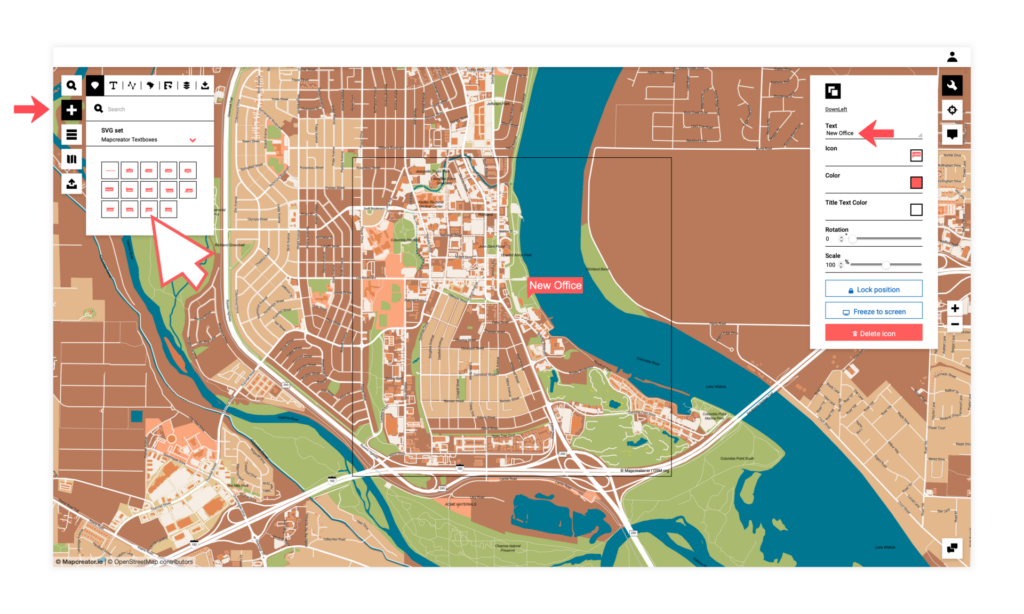 Step 6: Add Interactivity
And here is the best answer to your question: "How to create an interactive map of the United States?"
With Mapcreator, interactivity is really a matter of a few seconds. Once you've successfully implemented all the steps above and have the map to your liking, you can add interactivity to any annotation.
Click on the annotation you want to make interactive.
Click on the interactivity tab of the annotation (see the screenshot below).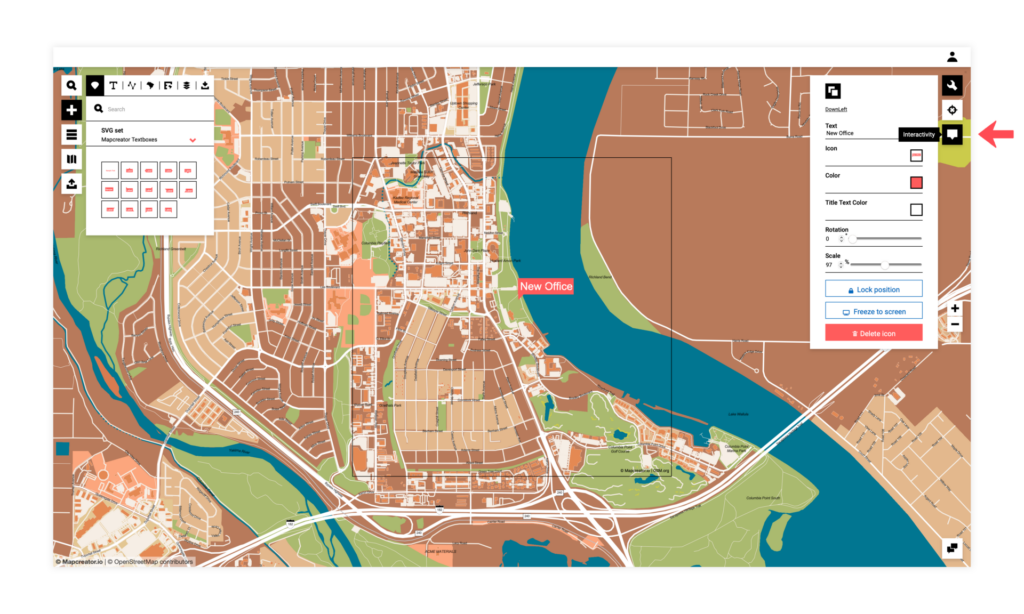 3. Once you click the button, you can choose the interactivity options for your selected item. You can add text or link a URL to the image and video.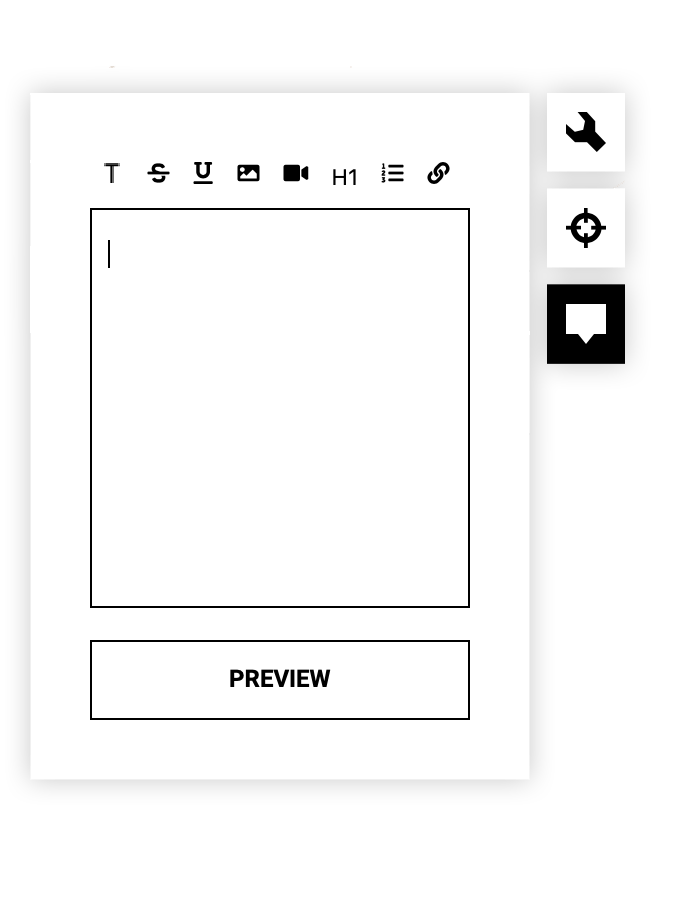 4. Once you've chosen the interactivity element, it will be displayed to the map reader anytime they click on the icon. Press Preview to see what it will look like. (I've added an interior of an office to our new branch location).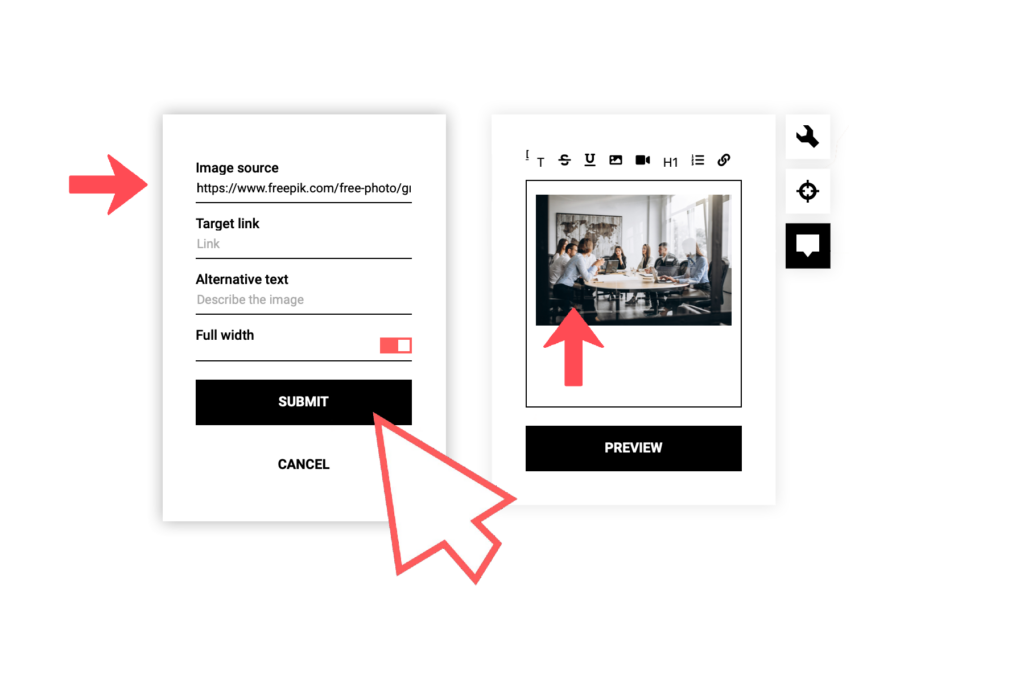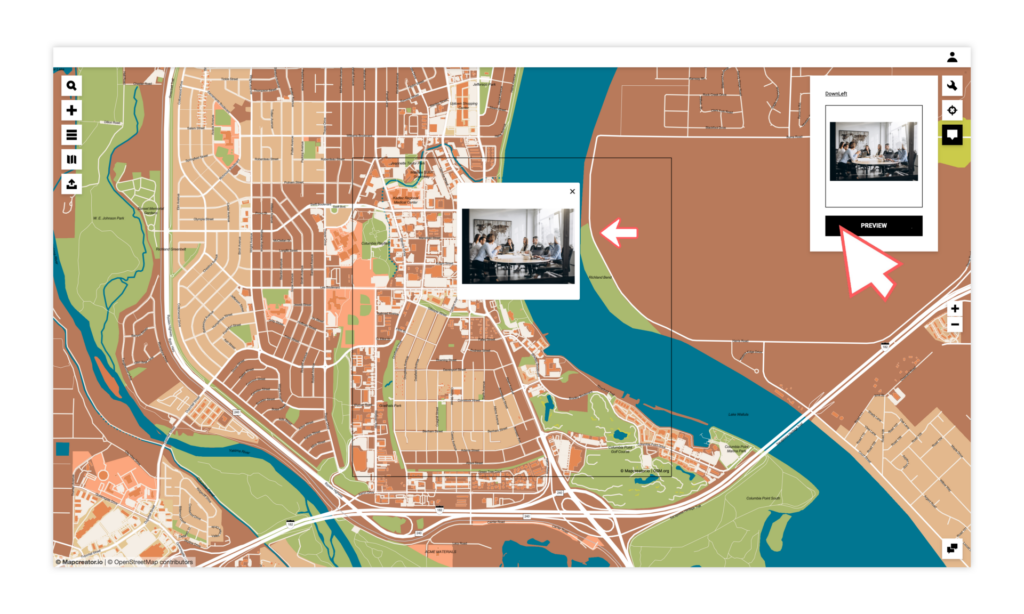 Step 7: Export The Map For Online And Offline Use
Mapcreator is a universal tool, it doesn't serve a single purpose. Whether you want to create a printed map or an interactive one, you can do it with this flexible and practical tool. The main difference lies in how you export your created map.
To create an interactive map with Mapceator, download your map in WEB format, which means you'll get a link to the (interactive) map as well as an iframe. You can then easily embed this digital asset on any report or document you need.
To extract your interactive map from Mapcreator, choose Export from the left sidebar, and choose WEB from Filetype. When you exported your project, you get a URL to your map and an embed code.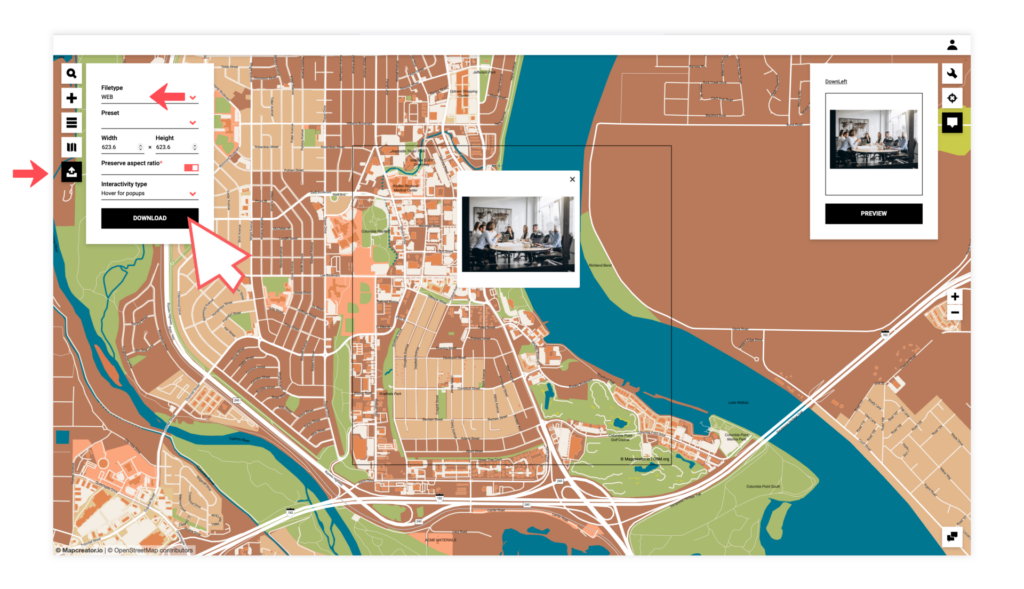 To integrate your interactive map on your website, include this embed code in the HTML code of your website.
Once you have your interactive map ready, you can easily import it or embed in any webspace. Your map's readers will then be able to interact with the map, pressing on each element and finding new data layers, zooming the map in and seeing surroundings better, and so on.
Final Words
Mapcreator is your go-to tool if you want to create presentations, data reporting, or simply engaging content. If boring static images do not meet your requirements, it's high time to acquire new skills for building perfect interactive mapping content.
If you might think creating such advanced content is a big hassle, Mapcreator is here to change that. The robust functionality of this map creation tool allows you to create, edit, and extract any element on the map. Unique in its user-friendliness, Mapcreator is best friends with millions of content makers.
If you want to kickstart your advanced content creation with Mapcreator, you can use the resources listed below.
Quick tips on how to create an interactive map
Now you know how to create an interactive map without considerable effort, time, or coding skills. So, nothing can stop you! Enjoy the ride.