Did you know that your viewers retain 95% of the information conveyed by a video? To help you take it to the next level, Mapcreator is proud to introduce its latest feature : Animated maps.
What is an animated map?
Mapcreator – your easy to use online mapping tool now allows you to turn static maps into stunning videos. Make a great impression by telling your story in a brand-new way.
As the name suggests, animated maps are animations that allow you to dynamically visualize breaking news, real estate for sale or rent, tourist locations and so much more.
Creating animations has never been easier, you don't need coding or post-production skills. In fact, creating an animated map is no more difficult than creating a static map. You can add a vast number of annotations from the Mapcreator library such as icons, text boxes, lines, roads, polygons, images and data layers. With Mapcreator's powerful vector maps, you can tilt, zoom and rotate over any area of the world with extreme accuracy without losing quality.
Why should you use an animated map?
Maps allow you to say more with less words, and this is especially true with animated maps. Highlight important information and draw your visitors' attention to what matters to you in your own way. With animated maps, you give your business a more professional and credible image.
With Mapcreator's animated mapping tool, you don't need expensive GIS software or a team of developers and graphic designers dedicated to this task. Just a few minutes, and you can share any message with animated maps that match your brand image.
The great thing is that you can turn your static map into a stunning video with just a few clicks. You're the creative director, you're in the driver's seat to create videos that match your brand image every second. Add key frames, master the timeline, adjust transitions, decide on aspect ratio. When you're satisfied, you can export your animation in various formats.
For who?
Newsrooms
Create animated maps in just a few clicks. Enhance your publications in minutes. Whether it's breaking news, events happening around the world or sports events, be the first to inform your readers in a completely new way.
Broadcasters
Create maps for TV channels, your YouTube channel or any other type of broadcast. With Mapcreator – online mapping software, you can create stunning video maps in minutes without worrying about post-production. Export your animations in very high definition and share them anywhere you want.
Go to Maps for Broadcasting page
Real Estate
Do you have properties to rent or sell in a short time? Reach your target audience efficiently with informative and eye-catching video maps. It's fast, you can quickly show your potential clients the area and get them to picture themselves in the house.
Go to Maps for Real Estate page
Tourism
With the wide range of annotations and elements in Mapcreator's library, you can show anything you want the way you want it. Whether the animation is global or more local, give your future travelers a unique experience before they even venture out.
Any business that communicates location-based data
Whatever your message is, let people get to see it. You can say a lot with very few words. Get to the point and enhance any online communication material with Mapcreator's animated map feature.
Go to Maps for Direct Marketing page
How to create an animated map?
Step 1: Sign up on MC
Register to MC and get a 14 days free trial. No need to have your credit card. In a few clicks, you are dropped on the user interface.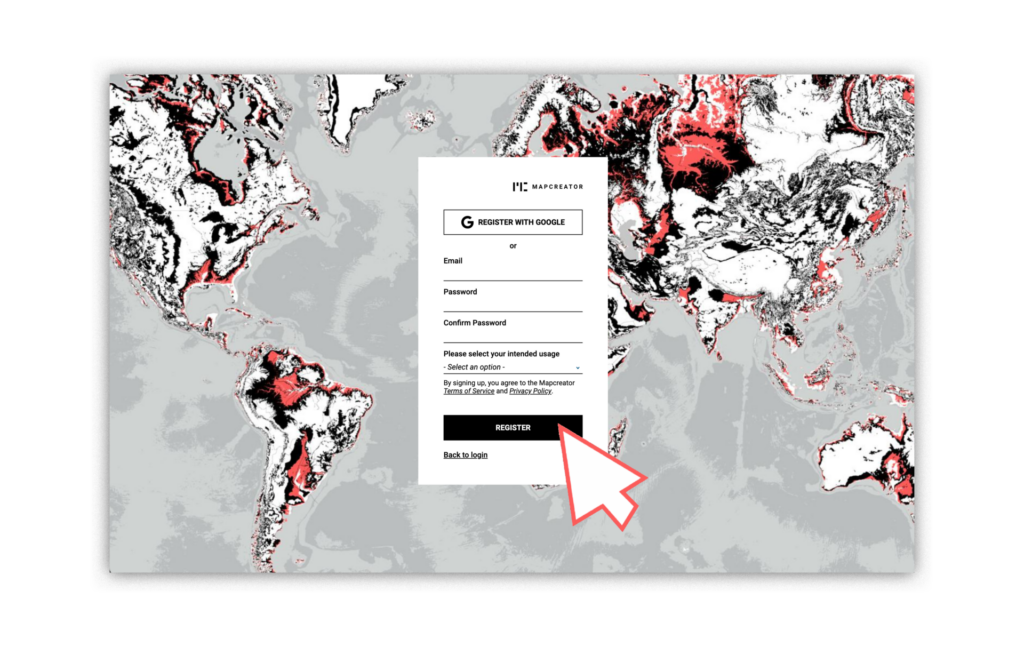 Step 2: Enter the animation creator interface
When you click on the camera icon at the bottom left of your screen, a brand-new interface appears. If you are an Adobe Premiere Pro user, you will feel in a familiar environment. If not, it's not really hard to get the hang of.
Step 3: Choose an area
Search for the place name in the sidebar menu, or manually zoom in on the location you want to work on. Once selected, add this area as the first keyframe, it will be the starting point of your animation.
Step 4: Add more keyframes
Each keyframe represents an area where your animation will focus for as long as you want. Add as many keyframes as you need and create a unique video.
Step 5: Add elements
To each keyframe, you can add as many elements as you want. Draw polygons to highlight a specific area, choose icons, labels, and text boxes or add data layers to your animation to make it more informative. Go to the elements list to view, hide and edit, copy and delete the entries added to your map.
In addition to our animation mapping service, you can add lines or routes and animate them. To do this, first draw your route like this. You choose where it starts and where it ends. Then you can decide when it appears on the project, how it moves and more.
Step 6: Play with the timeline
You are the master of time. You can act on the timeline, making each element appear and disappear at will. When opening the elements list, you can see only the items in the checkboxes. By checking these boxes, you can easily add the items to your timeline. You even decide on the transitions between keyframes and their length.
Step 7: Customize
Create a map that matches your business identity. You can choose colors, CSS and fonts. Everything is customizable to your liking in the exclusive version of Mapcreator.
Step 8: Export & Share
Your animated map is now finished. You can use it anywhere you want, in the language you need. To do so, export your project in the available video formats: MP4, PNG sequence and JPG sequence.
And as they say a picture is worth a thousand words, Mapcreator has thought of everything. Below is a video of one of our experts explaining exactly how to make an animated map.
Now it's your turn to play!
You know everything. Or almost… Did you like the animated maps feature? Are you eager to have more information about it? Read our page about animated maps.
…Or you can create your first animated map by clicking here.