Election maps for broadcasting
Mapcreator maps are suitable for TV broadcast, web use or even print. In this way, you can distribute your maps freely on many different platforms.
Learn more about our broadcasting features here, or find out more about the Canadian election on our blog post.
Gain time with our easy-to-use tool
Make your articles lively and personalized with Mapcreator's locator maps. Add numerous symbols and icons that perfectly match your brand image, and contextualize by adding interactivity.
Customize your maps as much as you want and reflect your image with your custom colors, fonts and CSS.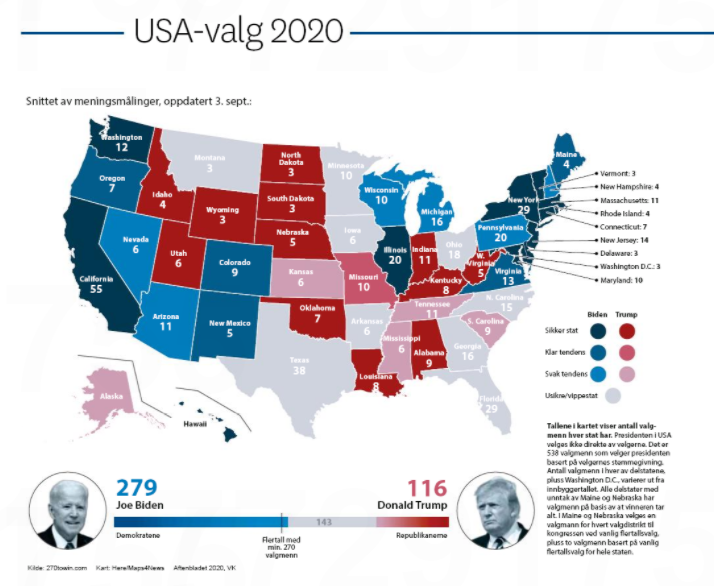 Reliable data for your election maps
We can use different data sources per election. Feel free to bring your own source or use an existing data source from our partners like Reuters or Edison Research. See the results come to live on a live updated map.
Our experts are here to help you, so don't hesitate to request a free demo and take advantage of our free trial.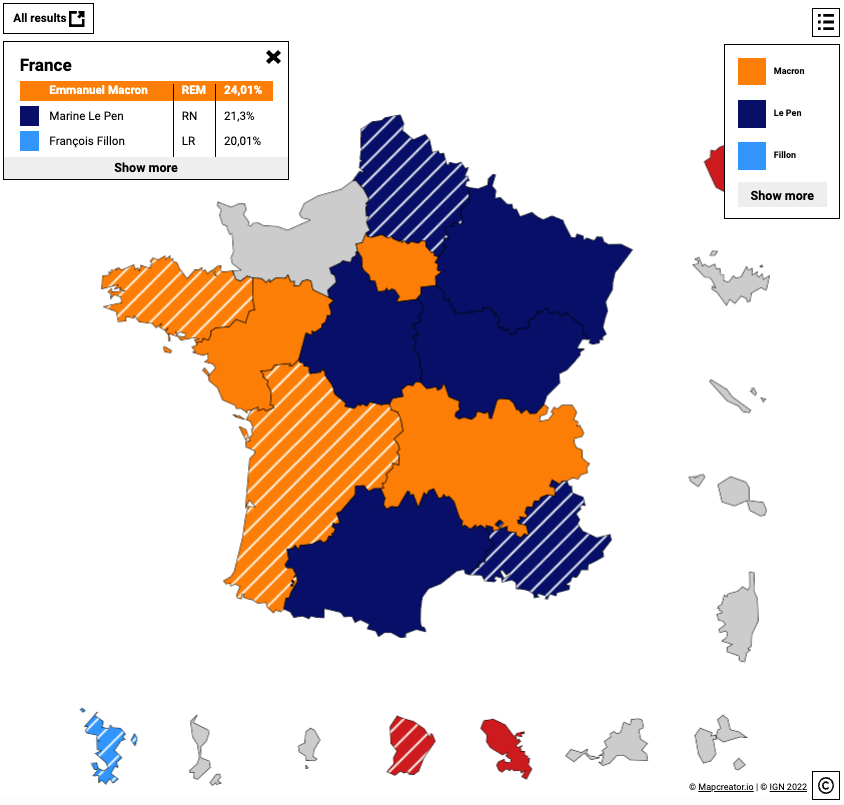 Show election results per division
With Mapcreator, you can select the administrative division of your choice.
You can then have the results of the election nationally, regionally or state by state.
See who is the local favorite of the race by visualizing the different party colors.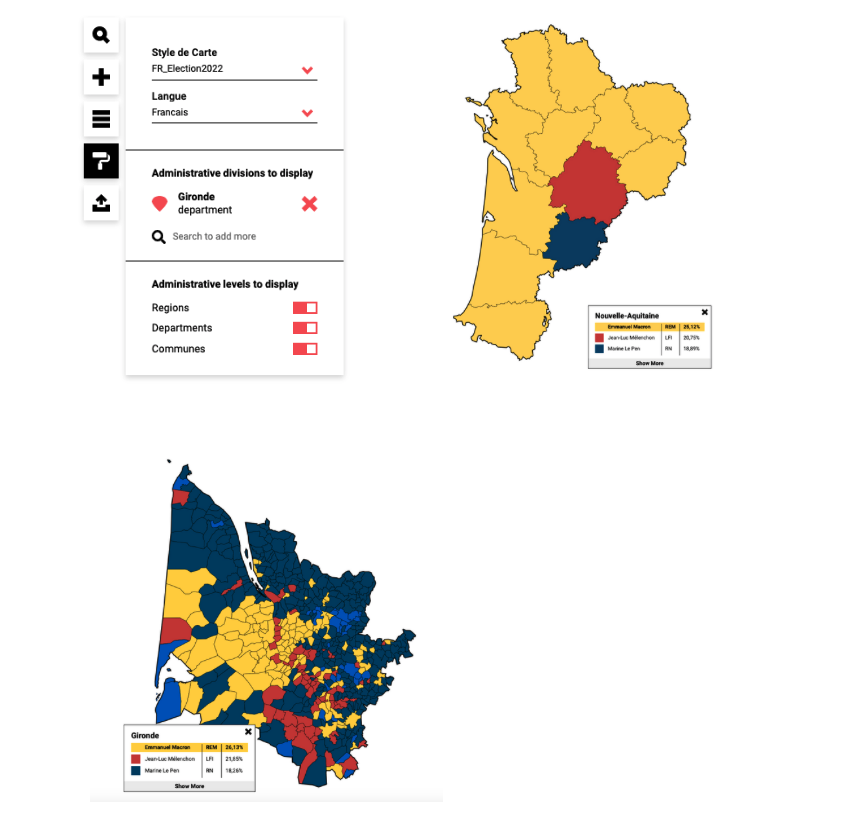 Advanced election visualizations
Use advanced visualization techniques like tilegrams and rely on composite projections to include overseas territories.
Then use interactive popups to show the results of candidates in the different locations.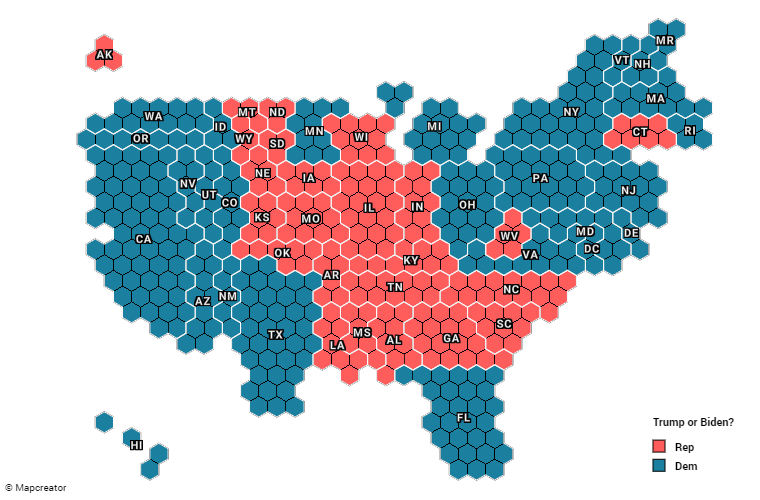 See it in action
Discover these use cases of our electoral maps in different newspaper articles such as the one made by Berlingske or have a look at this article published by De Telegraaf.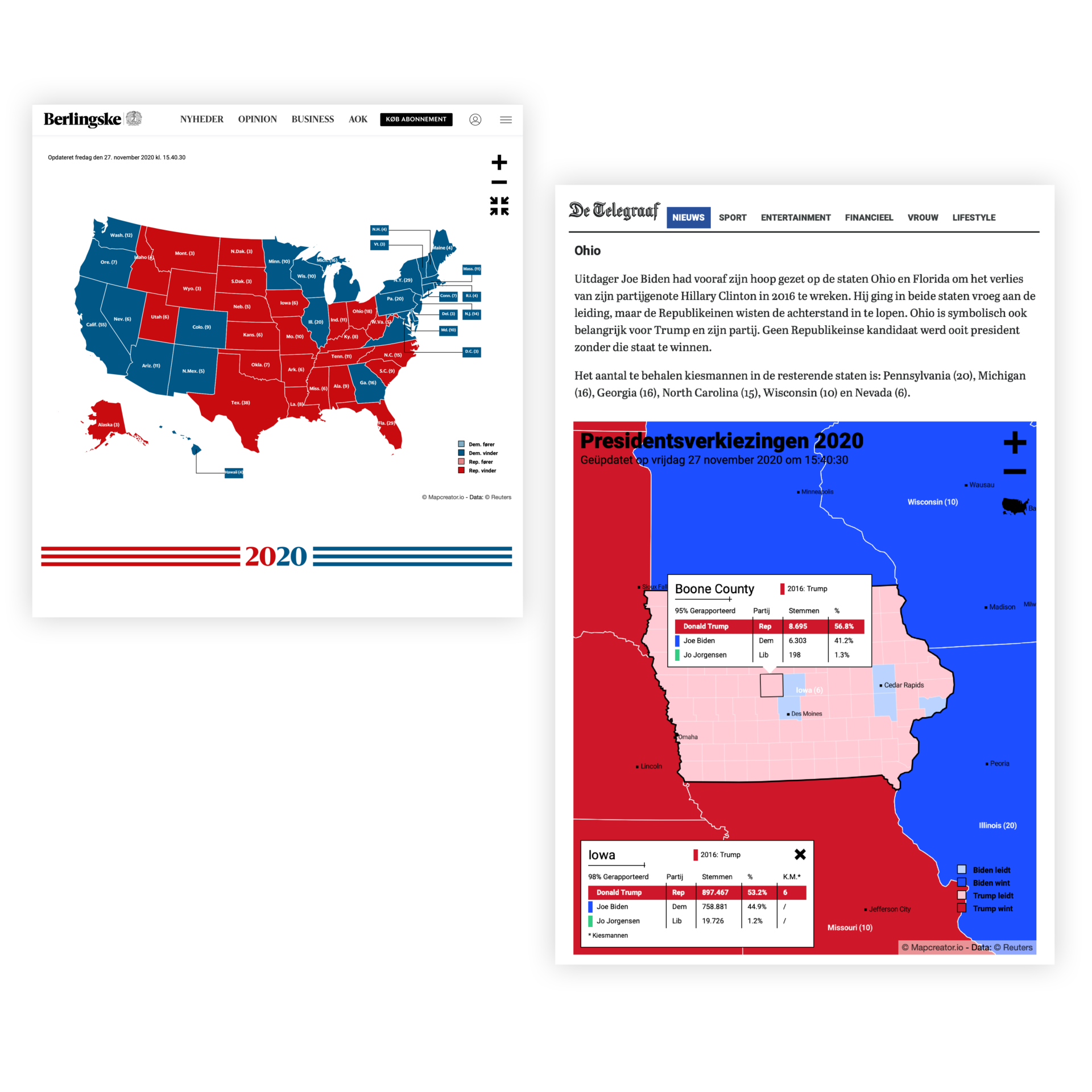 Other maps made with Mapcreator:
Frequently asked questions
¿Cómo personalizo mis mapas con Mapcreator?
Mapcreator viene con una amplia gama de estilos, fuentes y características de mapas por defecto que han sido cuidadosamente diseñados. Además de los elementos de estilo estándar que vienen con Mapcreator, los colores de los mapas, las características y las fuentes se pueden personalizar fácilmente para ti. ¿Quieres que construyamos tu propio diseño de mapa? Ponte en contacto con nosotros, y discutiremos tus necesidades específicas.
¿Necesito una base técnica/gráfica o cartográfica para crear mapas?
Mapcreator tiene una interfaz fácil de usar que no requiere conocimientos técnicos y gráficos profundos. Para asegurarnos de que puedes aprovechar al máximo la herramienta de mapeo, ofrecemos una formación completa con todas nuestras suscripciones.

¿Puedo probar Mapcreator gratis?
Ver es creer. Te ofrecemos acceso gratuito a Mapcreator para conocer las funciones básicas de mapeo que puede esperar. ¡Regístrate aquí para empezar! ¿Quieres probar Mapcreator al máximo? Ponte en contacto con nosotros y aprovecha una 'demostración guiada' gratuita en la que te mostraremos todo el potencial y las características de Mapcreator.
¿Puedo hacer mapas tanto para publicación impresa como en línea?
La herramienta ofrece la posibilidad de exportar diferentes formatos de archivo que pueden ser utilizados tanto para publicaciones impresas como digitales, incluyendo elementos interactivos. Puedes crear un mapa y exportarlo/descargarlo en varios formatos. Las opciones de descarga que soportamos en este momento son: PNG, .SVG,.PDF (CMYK), EPS y WEB. WEB significa que obtendrás un enlace al mapa (interactivo) así como un iframe.