If there is only one thing I've learned while working for a local/regional newspaper about cartography, it would be this: readers love maps. You can't afford to be stingy with them. Local newspapers report on those well-known other stories that national broadsheets or even highbrow weeklies don't. They speak about a school being closed, a sports club being newly built, a new fire station on the main road or an accident on that other one. They portray children being celebrated for an accomplished music course or a mini-project helping refugees move between towns. Spoken in the language of cartography, a local newspaper is a "map on a large-scale" – it's so close to the people, their news, and their lives.
This is probably what makes maps so essential for local newspapers. They literally map their daily life. They justify the concerns and interests of readers by visualising the parameters of conflicts. They demonstrate, for example, if an elementary school is 'too far' away or how utterly exhausting and time-consuming the construction of a vital highway has been.
Another intriguing aspect of creating maps for regional newspapers is that they engage readers of different ages. Many parents report to us that their children connect to a page because of a featured map. Maps convey information fast and have the ability to keep readers and viewers visually engaged for a long time. Perhaps they fulfil a longing for travel and to discover places far away. Using maps in different sizes and functions enhances the visual language of the publication. Local newspapers usually have lower budgets than nationwide publications for illustrations or high-quality photography. Well-designed maps can vary the visual vocabulary of the publication and engage readers deeper into the stories.
"Maps convey information fast and have the ability to keep readers and viewers visually engaged for a long time."
Showcase A (Federal Highway B30)
The following example shows a usage of cartography to summarise the status quo of the so-called B30 federal highway and the constructions to be finished in the years to come. This street is of vital importance for the region between Ulm and Friedrichshafen in southeastern Germany. About one million people live in the area connected by this Bundesstraße. We made a whole series about it; reported on people commuting on it, tested the food served at its rest stops and wrote about firemen rescuing lives on it – this federal highway has 65% more accidents than any other federal highway in whole of Germany.
We decided not to use photography to illustrate this final episode of the series. Pictures of specific construction sites would be not useful for picturing the whole project and the final constructions to come. So we decided to show on maps the exact projects on the highway; where new exits or detours are planned, and how this would affect the city planning in this area.
The technical challenge was of three aspects:
On the one hand we would like to show that the whole region is connected by the highway. On the other hand, we wanted to show a closer look at the different projects spread out across all of the highway-course. So we decided to work with a general middle-scale map as a binding frame and with multiple 'cartographic magnifiers' showing higher-scale windows and thus a closer look at sites. Those 'magnifiers' were of different scales depending on the given situation.
The 'magnifiers' don't show only fixed-planned projects but also alternatives, as discussions on municipal levels are still unsettled.
The resulting map is of high complexity. So, it needed to be visually organised and gradually narrated. This is why we decided to place the map at the heart of the story; giving it enough space and designing it vertically narrow, so it has a clear direction of visual guidance. The map should become the story itself.
The work process was demanding because of the high-level of detail we had to take care of. The planned routes are very politically sensitive, and creating maps for local news means serving readers that are well-informed about their own geography. Having some errors on a map showing downtown Cairo would be not critical for readers from South Germany, but misspelled names of towns on a local map in such a publication means some urgent angry phone calls in the office of the editor-in-chief himself or highly emotional handwritten or beautifully old-fashioned typed letters of complaint a couple of days later. It is usually the case, that you hear more negative feedback when something goes wrong but I have never got so much positive feedback in my previous work for national magazines or newspapers like working for this regional publication, Schwäbische Zeitung. Starting your day with a forwarded e-mail of a happy reader is very satisfying and reassuring; that well-designed and detailed work is being seen and appreciated.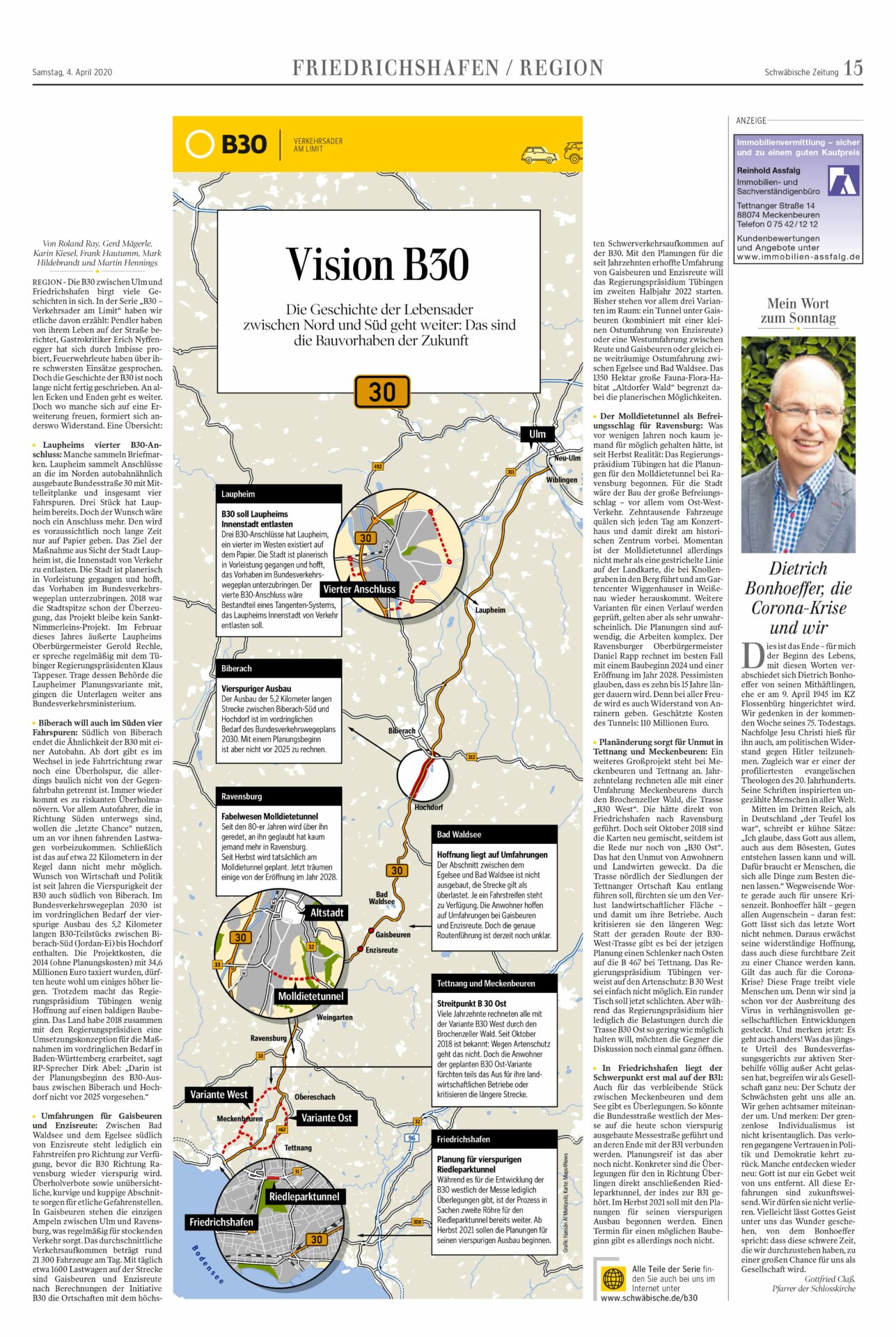 Shown above:
The published story with the map.

Shown above:
We had to produce the map for different areas, so we had to keep it flexible for different headlines.
"Creating maps for local news means serving readers that are well-informed about their own geography."
Showcase B (150th anniversary of the Suez Canal)
Given the situation of being a local newspaper with limited resources for our own reporters around the world, we bought a story from a news agency. We discussed featuring the text with photography. Yet the historic importance of the Suez Canal and the need for visual information showing economical aspects – since the story was featured in the business section – led us to think about information graphics and cartography to give depth to the story. So we came up with a plan to show the geographic aspect of this canal being the real border between Africa and Asia and using the map to frame the visual content we prepared.
The result was a 'charticle' with historic, economic, and geographical aspects. It was rewarding to hear from a teacher that he cut out the map to hang it up in his classroom.
Shown above:
The published story with the map.
Map tips:
The devil lies in the details, and so in the feedback of your maps. Take care with place names. Sometimes there are different ways to name places regionally, than is usual in general maps. For example, Leutkirch im Allgäu is named simply Leutkirch in our publication. Same for Freiburg im Breisgau.
For bigger maps, try to avoid square formats. Narrow vertical or horizontal formats enhance visual guidance through the map itself.
It's tempting to overload small maps with cartographic material. Think twice if you need to show all highways, roads, railways, and urban areas. If you are creating maps for a simple hike, for example, they could give a good reference to the route, but if not, remove them or visually downgrade them using colour or stroke thickness.
Use labels and info-boxes to create an 'upper level' of the information above the map itself. Use different typeface to contrast between geographical and other given information.
Think twice about the scale of the maps. Showing very high scale geographical information demands sometimes small additional locators embedded to show a lower scale and better orientation. Don't lower the scale of the map to include referential cities in the frame if they are far away.
"Narrow vertical or horizontal formats enhance visual guidance through the map itself."
Like what you see? Don't hesitate to reach out by email or via Twitter.