Election maps for broadcasting
Mapcreator maps are suitable for TV broadcast, web use or even print. In this way, you can distribute your maps freely on many different platforms.
Learn more about our broadcasting features here, or find out more about the Canadian election on our blog post.
Gain time with our easy-to-use tool
Make your articles lively and personalized with Mapcreator's locator maps. Add numerous symbols and icons that perfectly match your brand image, and contextualize by adding interactivity.
Customize your maps as much as you want and reflect your image with your custom colors, fonts and CSS.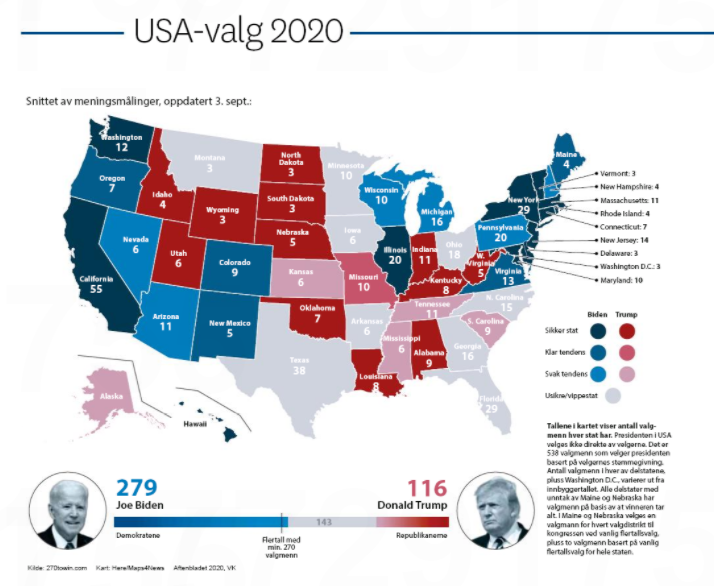 Reliable data for your election maps
We can use different data sources per election. Feel free to bring your own source or use an existing data source from our partners like Reuters or Edison Research. See the results come to live on a live updated map.
Our experts are here to help you, so don't hesitate to request a free demo and take advantage of our free trial.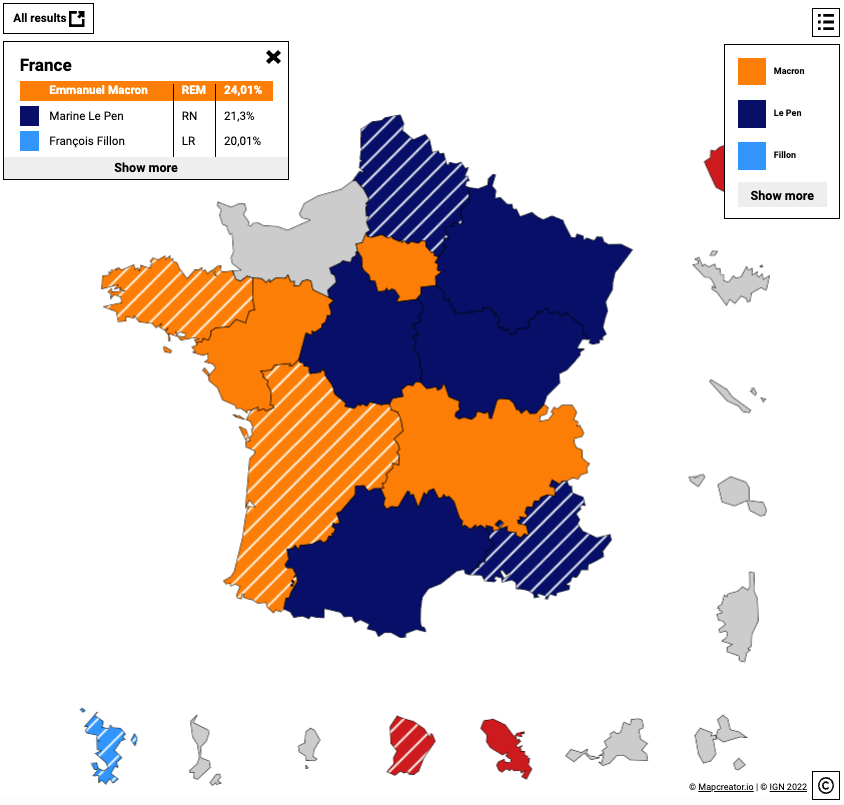 Show election results per division
With Mapcreator, you can select the administrative division of your choice.
You can then have the results of the election nationally, regionally or state by state.
See who is the local favorite of the race by visualizing the different party colors.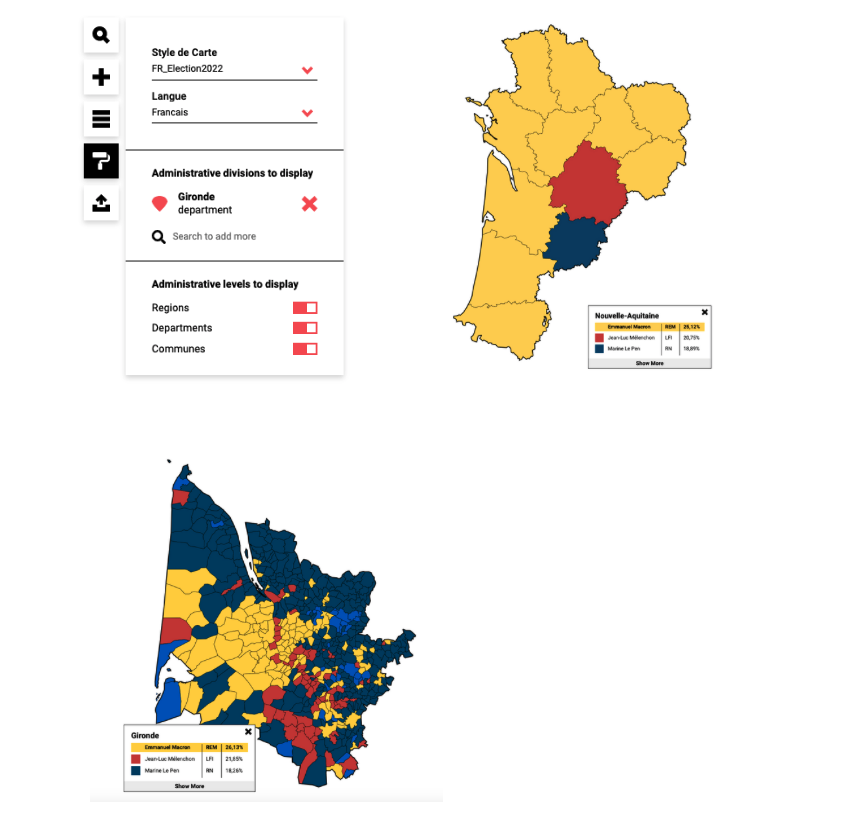 Advanced election visualizations
Use advanced visualization techniques like tilegrams and rely on composite projections to include overseas territories.
Then use interactive popups to show the results of candidates in the different locations.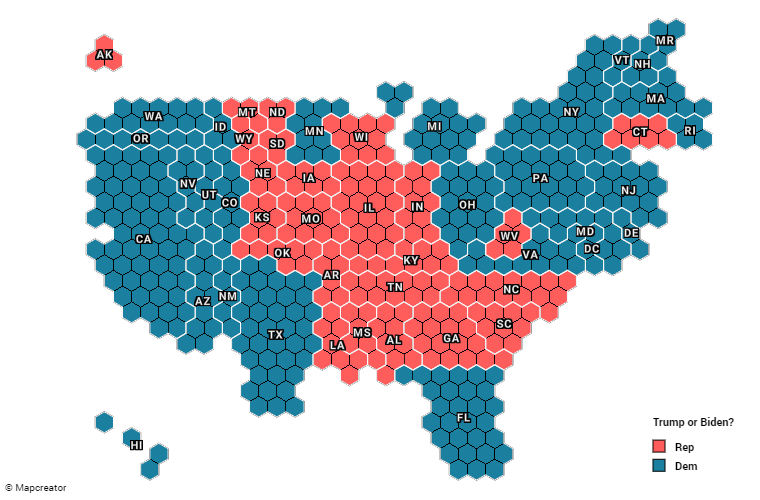 See it in action
Discover these use cases of our electoral maps in different newspaper articles such as the one made by Berlingske or have a look at this article published by De Telegraaf.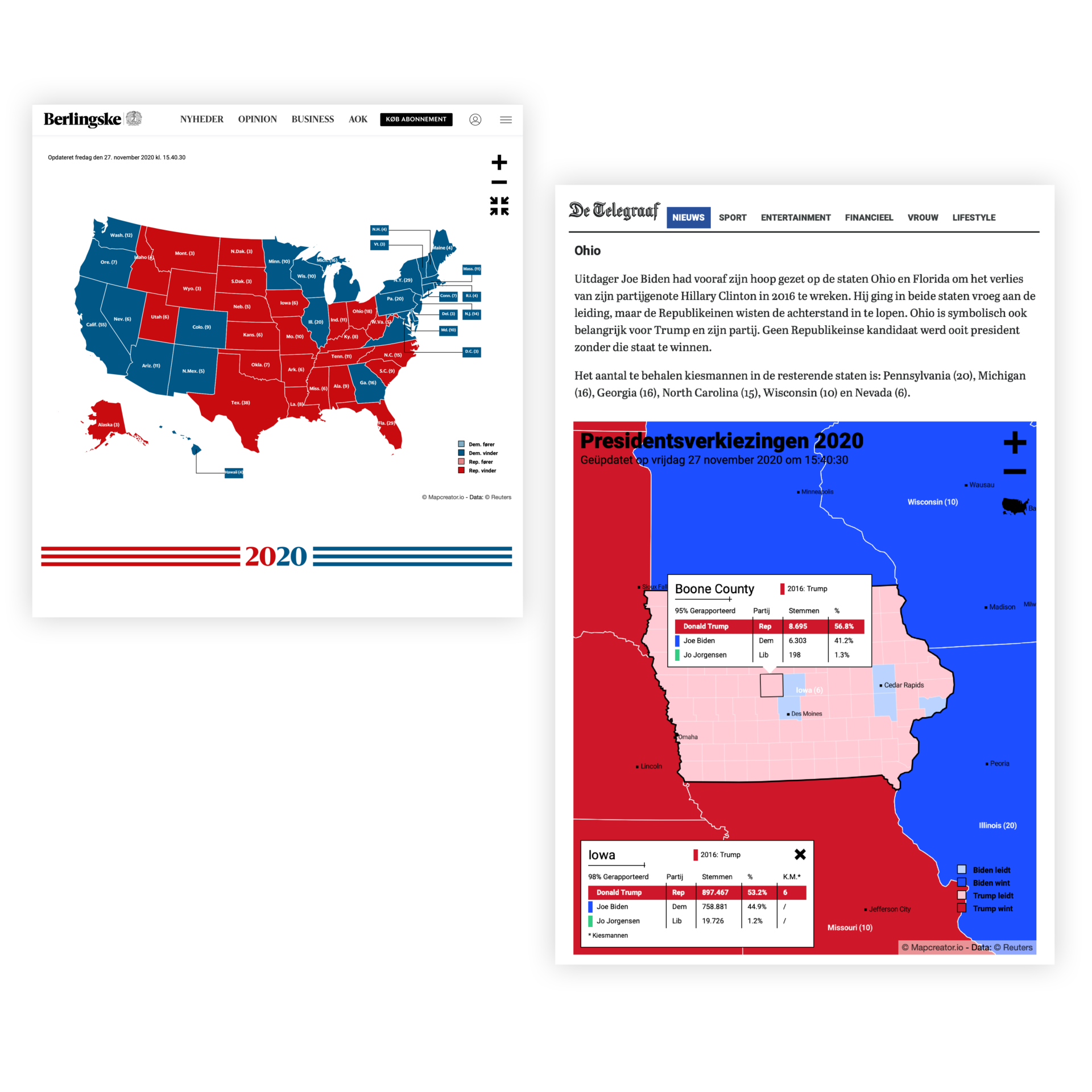 Other maps made with Mapcreator:
Frequently asked questions
Kann ich Mapcreator kostenlos austesten?
Selbstverständlich. Wir bieten Ihnen einen kostenlosen Zugang zu Mapcreator an, sodass Sie die grundlegenden Mapping-Funktionen kennenlernen können. Registrieren Sie sich hier und legen Sie los! Möchten Sie Mapcreator in vollem Umfang ausprobieren? Kontaktieren Sie uns und nutzen Sie die Vorteile einer kostenlosen, Business Case angepassten Demo, in der wir Ihnen das volle Potential und die Funktionen von Mapcreator vorstellen.
Ist es möglich, Karten für den Print- und Onlinegebrauch zu erstellen?
Mit Mapcreator können Sie verschiedene Dateiformate exportieren, die sowohl für Print- als auch für digitale Medien, einschließlich interaktiver Elemente, verwendet werden können. Sie können eine Karte erstellen und diese als folgende Ausgabearten downloaden: .PNG, .SVG, .PDF (CMYK), EPS und WEB. WEB bedeutet, dass Sie sowohl einen Link zur (interaktiven) Karte als auch einen Iframe erhalten.
Benötige ich technische/grafische Erfahrungen um Karten zu erstellen?
Mapcreator hat eine benutzerfreundliche Bedienoberfläche, welche keine tiefgehenden technischen oder grafischen Fähigkeiten und Erfahrungen voraussetzt. Um sicherzustellen, dass Sie auch alle Features unseres Tools kennen, bieten wir Ihnen ein umfangreiches Training an – von online Demos bis zu Workshops vor Ort.
Wie kann ich meine Karten mit Mapcreator personalisieren?
Der Mapcreator Anwender bestimmt den Kartenausschnitt, wählt die Zoomstufe und bestimmt, welche Symbole oder Textelemente mit auf die Karte kommen. Mapcreator wird mit einer großen Auswahl an sorgfältig entworfenen Standardkartenstilen, Schriften und Funktionen geliefert. Falls Sie und Ihr Team bestimmte Farben, Beschriftungen oder Icons für Ihre Karten verwenden möchten, erstellen wir gerne einen eigenen Kartenstil für Sie. Sie haben noch keinen internen Style Guide und möchten, dass wir Ihr eigenes, komplettes Kartenlayout erstellen? Wir unterstützen Sie bei der Entwicklung! Bitte kontaktieren Sie uns, und wir besprechen Ihre speziellen Anforderungen.